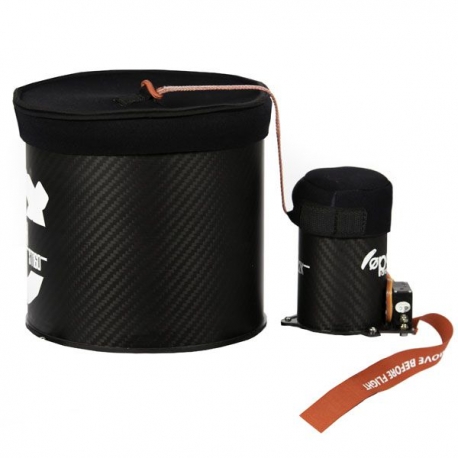 View larger
Parachute kit Safetech - ST160 + 12m2 parachute - (mass ≤ 25kg)
OP17570
New product
This new parachute rescue system will allow you to secure a drone up to 25kg (55.1lb) in any circumstances.
Allowing you to easily registrate your machin regarding your airplane country regulations.
Suitable for the DJI S1000 drone.
Warning: Last items in stock!
Availability date: 2018-08-10
Drone Parachute Kit Safetech ST160 with a 12m2 parachute

Super fast deployment: 0.8 à 1.5s
Low sink-rate : 2.6 to 4.6m.s
Only 1020gr / 2.25lb
Easy to install
Controlled with a simple PWM signal
Parachute ready to reuse in few minutes after deployment
Tube made of carbon
Fixation lines made of Kevlar
Universal mounting
Locked for the transport
Pioneer in the drone rescue parachutes development, Opale Parachutes introduces its brand new range of Safetech® products.
A simple and groundbreaking technology
This new parachute rescue system will allow you to secure your drone in any circumstances.
Thanks to its new ejection technology, combined with the ST60, the main parachute is ejected and deployed between 0.8s - 1.5s, with a deployment height between 8 and 15 meters. Unlike the competitors' systems, the Safetech® does not apply a permanent pressure on the parachute, which allows to guarantee a safe ejection, a super fast deployment and also a longer parachute shelf life, without repackaging it every week.
A simple and fast fixation allows an universal mounting on all machines available on the market.
Heavy duty resistance
The rescue parachute strap is made of Aramid / Kevlar, ensuring a rupture resistance of 300kg (661lb). The lines and the strap are knots free, which allows to have a 100% mechanical resistance and an outstanding finish, for an optimal lifespan.
The parachute is made of the same quality standards than a rescue parachute ULA. The fabrics have a silicon coating, with a really low mass (only 32g/m2), that offers an extremely light system.
A low impact energy
A new parachute geometry was especially developed in order to offer the lightest rescue system, compact, a flight steadiness and an opening efficiency. You will benefit of a low sink-rate with a maximal impact energy of 264J for a 25kg (55.1lb) drone weight, with a rescue parachute kit only wheighing 1020gr (2.25lb).
The result of this low impact energy will allow you to easily registrate your machine regarding your airplane country regulations.
Security, safety and reliability pledge
A market analysis allows to quickly understand the Safetech® technology benefits :
Pyrotechnic free: Air transport and maintenance routine easy and safe, Safetech® prevents uncontrolled explosion risk.
The parachute is free from permanent pressure: Shelf life increased, super fast and efficient deployment.
Fuse system free: no useless battery weight, deployment time shorter and optimized, no Lipo battery inflating risk and no fire risk.
So you will understand, the Safetech® technolgy will offer the best safety and reliability standards to protect your drone in any situations, with a very competitive price.
Features:
ST160 tube dimensions: 154x160mm / 6.06x6.3in
ST60 tube dimensions: 90x60mm / 3.5x2.4in
Material: Carbon
Total weight: 1020gr / 2.25lb
Servomotor connector: UNI
Signal: PWM compatible with a transmitter or a stand-alone module
Tension : 4.8 to 7.2v
Flat area: 12m2 / 129ft2
Lines : Dynema / Spliced Aramid Kevlar (no knot)
Fabrics: 32gr/m2 with silicon coating
Fixation strap Aramid 300daN (300kg / 661.4lb)
Indicative falling speed according to the total flight mass for a 12m2 (129ft2) parachute:
| | | | | | | | |
| --- | --- | --- | --- | --- | --- | --- | --- |
| Multirotor mass [kg]: | 8 | 9 | 10 | 12 | 15 | 20 | 25 |
| Sink rate [m/s]: | 2.6 | 2.7 | 2.9 | 3.2 | 3.5 | 4.1 | 4.6 |
| Impact energy [J]: | 27 | 33 | 42 | 61 | 92 | 168 | 264 |
Included in this kit:
1 x Safetech ST160 ejection tube
1 x Safetech ST60 ejection tube
1 x 12m2 parachute
1 x 1m2 parachute
1 x fixation strap
1 x servomotor
1 x hardware and accessories kit
Required and not included:
Transmitter or stand-alone module
4.8 to 7.2V battery
Reviews
No customer reviews for the moment.